Happy Independence Day!
SBI, the software company used to build and host my three websites is having a Special Limited Time Sale on its products. This sale which offers a 90-day guarantee is only available through Saturday, July 5th. Take a minute to check out this link if you have ever thought of having your own website or online business.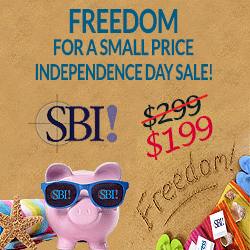 With gardens in full bloom, we love herbs, flowers and shrubs that attract butterflies, and bees? One such aromatic herb is this month's . . . .
THE SPICE OF LIFE - Rosemary

Rosemary, a member of the mint family, is an herb with a strong lemony pine aroma and needle-like leaves. It is a primary ingredient in the classic French blend, Herbes de Provence, and can be used too for Bouquet Garni.

Rosemary is indigenous to the Mediterranean region, and is grown now throughout Europe and the United States.




Rosemary is good for foods like: beans-dried, beef, breads, chicken, fish, jams and jellies, lamb, meatloaf, pasta, peas, onions, root vegetables (e.g., beets, carrots, parsnips, potatoes, rutabagas, sweet potatoes, turnips), sausages, veal, and turkey.

Keep in mind that the leaves are actually tough needles similar to those found on pine trees. Fresh sprigs of needles are great for flavoring longer cooking dishes. Remove them before serving your dish. For shorter cooking dishes, either crush the needles with a mortar and pestle, or tie them up into a cheesecloth bag that can be removed before serving. Consider ground Rosemary for its convenience and ease of incorporation into a dish with little to no cooking time.


MONTHLY EVENTS
July is the Month for:
Blueberries, Baked Beans, Culinary Arts, Hot Dogs, and Ice Cream
Our Favorite National Food Days in July Include:
July 1st - National Gingersnap Day
July 3rd - National Eat Beans Day
July 4th - National Barbecued Spareribs Day
July 4th - National Caesar Salad Day
July 5th - National Apple Turnover Day
July 6th - National Fried Chicken Day
July 9th - National Sugar Cookie Day
July 9th - National Don't Put All Your Eggs in One Omelette Day
July 11th - National Blueberry Muffin Day
July 12th - National Pecan Pie Day
July 13th - National French Fries Day
July 13th - National Beans 'n' Franks Day
July 14th - National Pick Blueberries Day
July 16th - National Corn Fritters Day
July 16th (Third Wednesday) - National Hot Dog Day
July 18th - National Caviar Day
July 19th - National Ice Cream Day
July 20th - National Lollipop Day
July 20th - National Fortune Cookie Day
July 21st - National Junk Food Day
July 23rd - National Vanilla Ice Cream Day
July 27th - National Crème Brûlée Day
July 30th - National Cheesecake Day
July 31st - National Cotton Candy Day


SPICY TIDBITS
Check here for the latest news on any spice recalls, market withdrawals, and safety alerts:
MERCHANTS & RETAILERS:
Websites for Spice Retailers:
Atlantic Spice Company - atlanticspice.com
Durkee® - durkee.com
Maison Terre - maisonterre.net
McCormick® - mccormick.com
Milford Spice Company - milfordspice.com
Penzeys Spices - penzeys.com
Savory Spice Shop - savoryspiceshop.com
Spice Islands® - spiceislands.com
The Spice House - thespicehouse.com
Spice Accessories Websites:
Bottles, Containers & Jars:
Bottle Store - www.bottlestore.com
eBottles.com - www.ebottles.com
SKS Bottle & Packaging, Inc. - www.sks-bottle.com
Labels:
Online Labels - www.onlinelabels.com
Spice Racks:
Tubular Spices - www.tubularspices.com/Spice_Racks.asp
Spice Rack Source - www.spiceracksource.com/all-spice-racks/


Check out our website that's All About Sweet Potatoes



YOUR TURN
Tell us what you would love to see in our monthly eZine. We want to keep this publication fresh and relevant. We want to put a spotlight on the herbs and spices that are of the most interest to you.

Use our Contact Form to give us constructive feedback or ask questions. Thank you!

Ellen White

Eat Well. Live Well. Cook everyday with spices and herbs!